The debate with Guy was short, shipped, extremely clear when I asked him what a rare and particular variety we could write about?!Lucie chanted his name like a little wild meow. Acer palmatum Shishi Gashira, in other words, the Lion's mane palm-leafed , has a name that sounds good, it's nice to say it. You must try! But before all these palavers, it is a definitely interesting cultivar for pot, for a garden, on a terrace or as a Bonsai. We own 3 of them. This tree has definetly seduced us. On the other hand, its growing habit is very slow.
Shishi Gashira in your garden
It is early and is thus adorned with a green foliage with limp tense leaves that makes it very attractive! As if you had a bonsai planted in the ground. A very compact port that makes it very different than other Japanese. Ligature and structural size can make a piece of art in your garden. Personally, I think that if planted in an isolated place near a pretty conifer makes it stand out! Thanks to its captivating and original aspect. When we went with Lucie,in Guy's garden in Relevant, it was at the very end of autumn. And "Shishi" sat there, in full foliage while many other species were already naked. He roared an absolutely splendid Orange!
An idea, as we put it ourselves is planted surrounded by Ophiopogon minor (kind of very dense turf of a deep green, which brings out the Shishi Gashira graphical aspect and his tense mane. inspiring wish to make your garden a work of art.
A very resistant Japanese Maple
The other asset of this rare tree in our gardens is that it is resistant to diseases while being very tolerant to the sun. Potted on a terrace, like our friend Maya – whom I thank for the translation of this site – sent me photos last week and we were still in winter! He was already, sitting on his balcony, in full foliage.
Finally, I'll paraphrase Guy to add a major asset to Shishi Gashira in your universe: "One of the most beautiful and durable fall coloring. Often presents several shades at the same time in the fall. On the same tree you may have at the same time yellow, red and orange. It depends on the maturation of the leaves before browning and falling."
Do I need to add something about him? Yes!
Gashira's Family tree
Beyond the botanical family of Acer Palmatum, Japanese maple Shishi Gashira has a brother: O jishi, which means male lion. A faster-growing cultivar whose leaf-curved leaf limb high are more open. But he also got a sister: Me jishi (the female) with a slow growing habit, whose almost dwarf leaves are curved down.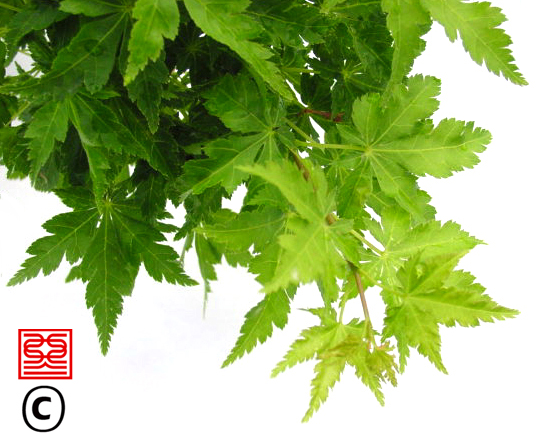 A non exhaustive overview of this fascinating Japanese maple tree. I hope you'll cultivate it without moderation!
Mehdi Benaïssa
Technical Sheet of Shishi Gashira
Species:
Acer Palmatum
Variety:
Shishi Gashira
Leaves Shape:
Palm
Colors:
Spring: Tender foliage green foliage
Summer: dark green
Autumn: fiery red orange
One of the most beautiful and durable fall coloring.
Often presents several shades at the same time in the fall.
Hardiness:
-20°F
Adult Size:
13 feet
Growing Slowly
Adult Width:
4-6 feet
Shape:
Natural/Compact
Zone:
USDA 5
Type of Soil
Neutral, Acid
Exposition:
Partial Shade
Full Sun
To support our documentary project: https://www.ulule.com/erable-du-japon/
---